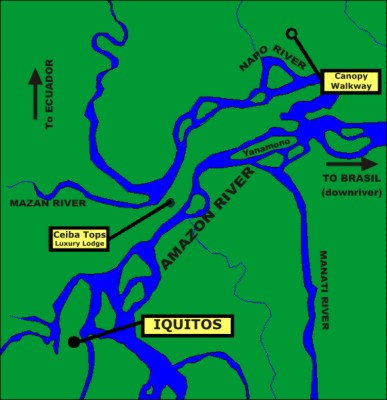 ABOUT CEIBA TOPS LODGE & RESORT - in their own words:
CEIBA TOPS, opened in 2000, is located on the banks of the Amazon River just 40 km (25 miles) from Iquitos taking just 45 minutes by motorlaunch. Ceiba Tops offers the comforts of home, air conditioned rooms with private bathrooms, in the most luxurious of Amazonian Rainforest settings. At Ceiba Tops, elaborate gardens, a swimming pool, water slide, hammock house and the Esmeralda lounge all complement the surrounding exotic environment.
FACILITIES:

Restaurant with buffet style service
Bar with Peruvian and international drinks
Swimming pool
Water Slide
24 hour self service coffee
Hydro-massage
Hammock house

ACCOMMODATIONS:

72 rooms with poolside, Rainforest or Amazon River views
air conditioning
private bathrooms with hot water
large picture windows

ACTIVITIES:

Walk in the Primary Amazon Rainforest
Birdwatching excursion
Visit to Yagua Native American Community

The World's Longest Canopy Walkway located in the ExplorNapo Reserve, 75 river miles away from Ceiba Tops, can be visited on a Full Day Excursion for two or more guests at additional cost.