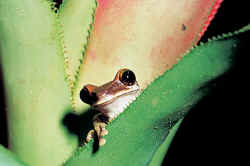 ABOUT THE CANOPY WALKWAY - in their own words:
The Canopy Walkway is an experience unequaled in the rainforest! At a height of over 35 meters (115 feet) and extending for 500 meters (one-third of a mile), the Canopy Walkway provides a view of the rainforest from the treetops, the best vantage point for observing Amazon wildlife and vegetation. The Canopy Walkway is accessible to all and requires no special skills or equipment. The suspended walkway is spread between 14 of the area's largest rainforest trees and is one of the longest canopy walkways in the world.

Maintained by the Peruvian Foundation CONAPAC, the Canopy Walkway has extended research into an area where little is known and so much is left to be discovered.