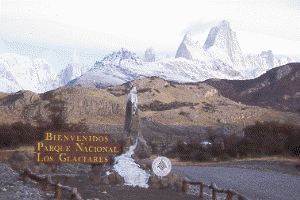 The main attraction is Cerro Fitz Roy (3,405 m), part of a granite massif which also includes peaks of Cerro Torre (3,128 m), Poincenot (3.076 m), Egger (2,673 m), Guillaumet (2,503 m), Saint-Exupery (2,600 m), Aguja Bifdia (2,394 m) and Cordon Adela (2,938 m).

The main activities are hiking and mountian climbing and just plain ole' gawking at the spectacular scenery. While El Chalten prides itself on its mountaineering opportunities, there are several walks that begin easy, move to moderate and then on to challenging, but you can enjoy the views all along the way and stop when ever you wish and your efforts not be wasted.

Bring along rain gear and always be prepared for the winds and the temperatures with mountains, glaciers and winds.