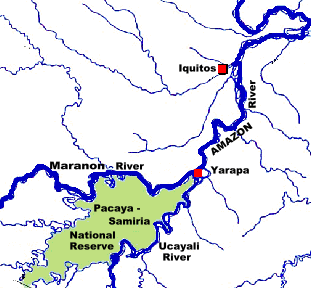 ABOUT THE PACAYA-SAMARIA NATIONAL RESERVE:
Located 100 miles west from Iquitos, this triangular shaped reserve lies between the Maranon and Ucayali rivers, which intersect at the northeastern tip of the Reserve and mark what is considered the Amazon River proper.
The Reserve is large enough to cover the state of New Jersey. It has been protected since 1940 and declared a National Reserve in 1972 and enlarged to its present size. It is the largest reserve in Peru, the second largest in the Amazon and fourth largest in all of South America. It has an area of 8,042 square miles, which represents 1.5% of the total surface of Peru.
Some quick facts about Pacaya Samiria Reserve:
80 lakes, including Hatun Cocha, Pastococha, Shinguito, Maldonado, Ungurahui, Yanayacu, Zapote, Yarina, Tamara, Cotococha, Achual, El Dorado
There are 94 communities, 21 of them of the Cocama-Cocamilla ethnic group. Around 42,000 people live in the Reserve, mostly along the edges as there are only a few villages in the interior of the Reserve. Average family size 8 to 10 persons; main food staples are plantains, yucca and fish; thier houses are made from materials found in the forest
102 species of mammals including 13 species of primates including Capuchin Monkeys, Spider Monkeys, including the Black SPider Monkey, Orange-chested Spider Monkey, Woolly Monkey and Howler Monkey, all considered endangered.
449 species of birds including five of the eight species of Macaw living in Peru, and the prehistoric-looking Hoatzin.
69 species of reptiles
58 species of amphibians
256 species of fish
1,204 species of plants
Threatened or endangered species include the Jaguar (Felix oca), the black alligator, giant river otter, the manatee, four different species of primates and two different species of turtles.
An essential element that is characteristic of this protected area is the cycle of crescent and reflux of the rivers.
CRESCENT: October-April - rainy season and the waters of the rivers and creeks increase, flooding a large area of the rainforest.During this time animals find shelter in the highest areas, where water never reaches. During this period the launch boats venture deeper into the flooded forests
REFLUX: May-September - rain decreases dramatically and the level of the water falls progressively, reaching its minimum in August. This seasonal change and the predominantly flat terrain makes a landscape full of small rivers, creeks and lagoons, offering the opportunity to observe a large number of aquatic birds catching fish concentrated in these areas. During this time large beaches also form in the main rivers, and are used by settlers to grow rice, beans, peanuts and other crops, and also by two species of turtles to lay their eggs.