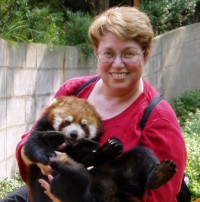 Gwen Gordon
Accounting
Gwen is a relative newcomer to the travel industry…by Ladatco standards. This is her first job in the travel industry and she has been with us more than 25 years. With her love of travel, it was a good match for all. Born in Philadelphia, she moved to Miami 33 years ago. Prior to joining Ladatco, Gwen worked in the manufacturing industry, real estate, accounting and computer consulting. She brought varied expertise that has helped make Ladatco more efficient . Hired as the bookkeeper, her duties have expanded over the years to include overseeing the computers and all the office technology, and keeping the office running smoothly.
Prior to meeting Michele, Gwen had never traveled to Latin America. Between 1987 and 1999, she has traveled annually to at least one of our destinations. In 2006 there were 2 trips to Argentina. While she still has interests in traveling the world, she has grown to love the south.
Phone ext #8402
e-mail: gwen@ladatco.com
Neysa Castells
Documents
Neysa joined LADATCO in October 1986 in the mail room overseeing brochure fulfillment and mailings.
Today Neysa handles all the trip vouchers, itineraries and final documentation in addition to sales support and mail room duties.