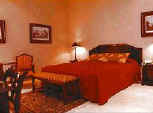 About Jose Nogueira - in their own words:
Right in the middle of downtown is located one of the oldest buildings of the entire Patagonia, the centenary old mansion formerly owned by Don JosÚ Nogueira and Do˝a Sara Braun, two characters who "wrote" the history of Patagonia . Don JosÚ Nogueira, of Portuguese origin and a sailor by profession, was the most sucessful of the patagonian pioneers. He amassed a grand fortune during the second half of the nineteenth century. In 1890, ordered the contruction of a splendid mansion in the middle of downtown Punta Arenas.

The mansion became one of the most outstanding symbols of the city, and in 1982 it was declared a National Monument, therefore prohibiting its modification. In 1992 was settled as an small and exclusive hotel, which has the privilege of been chosen by his majesty the king of Spain Juan Carlos de Borbon as his temporary residence during his visit to Punta Arenas in 2004.
JosÚ Nogueira hotel has 23 rooms, including five suites, exquisitely decorated with all services and comfort of a grand hotel.

For its operation the hotel restored an old mansion that has been declared a National Monument. The available spaces were adapted so that the structure of the building would not be charger and therefore all of the rooms are not exactly the same. For this reason, some rooms are bigger than others, but each one acquiring their own personality and characteristics, and all having a high level of comfort. This specialty of Hotel Jose Nogueira is extended to all of the guests each one receiving a completely personalized attention, far from the service that usually surrounds us.

The JosÚ Nogueira hotel has two dining rooms and the winter garden Pergola dining room. The first two contain the original furniture, lamps, and curtains of the mansion, and in the Pergola you can dine enjoying the long summer days, whith day light until 11 PM. The quality of the meals has received praised commentaries in specialized magazines. Here you can taste the typical Patagonian and international foods.